Jacked up skins 12 1/2
Fried russets, cheese & smoked bacon baked on a cast iron skillet. Topped with scallions & served with ranchero yogurt dip.
Poutine 10
Skinny fries topped with cheese curds, gluten free gravy & fresh parsley.
Double cheese curds $2.5
Double dip yam fries 10
Ancho Chipotle & garlic aioli dips.
Baked Cauliflower 10
House marinated cauliflower baked with parmesan & fresh dill.
Steak Bites 12 1/2
Signature steak spice, arugula, ranchero yogurt.
Blackjack Strips 12
Blackened chicken strips with ranchero yogurt. (our spiciest dish!)
GF Curry Mussels 16 1/2
A pound of mussels in a spicy panang ginger curry. (Also available in a white wine sauce.)
GRAZING GREENS & Soup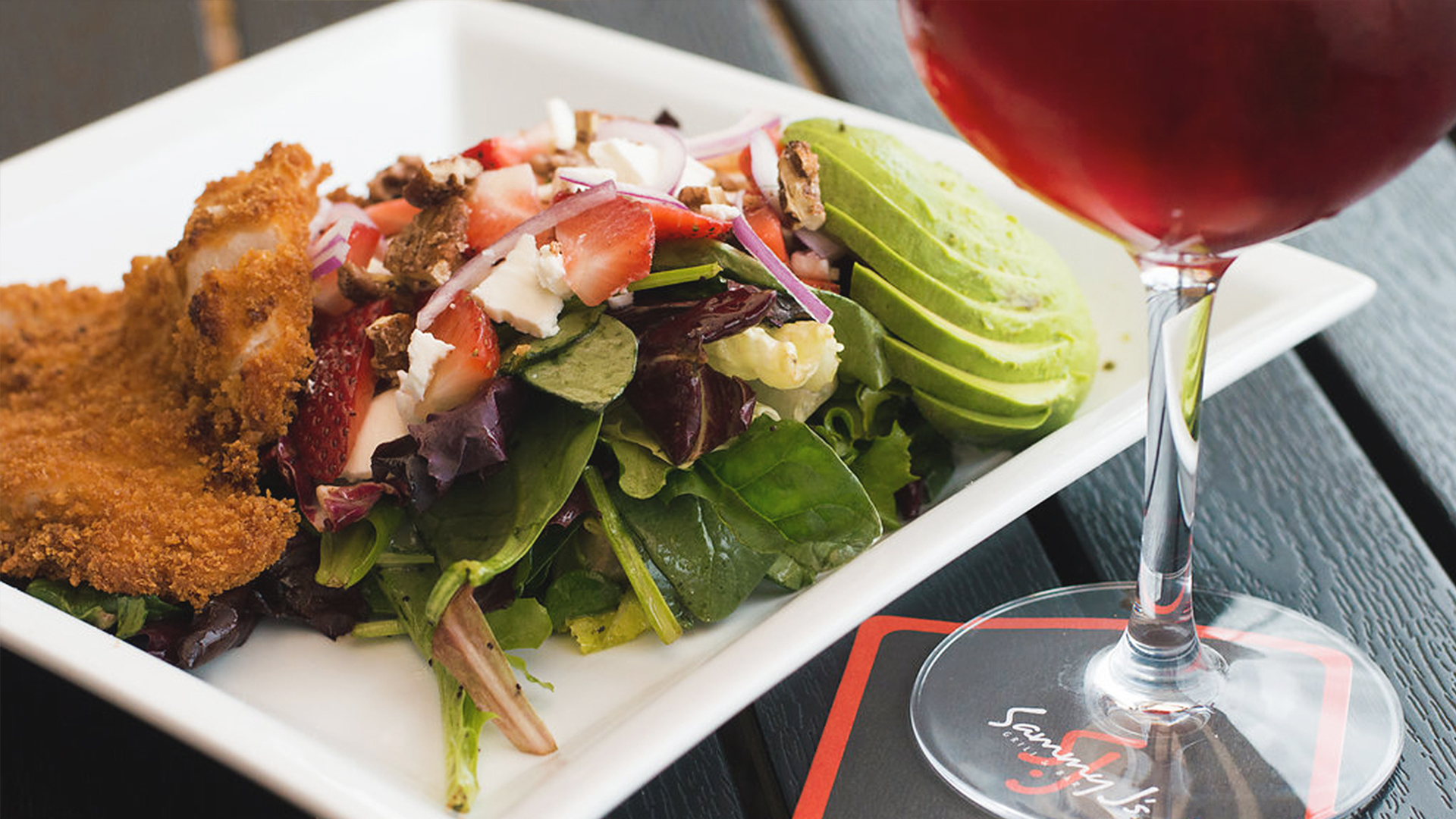 Salad Add-Ons: Chicken Breast 5 | Garlic Prawns 5 | 6oz Steak 9 1/2 | 6oz Salmon 8 1/2
Strawberry Fields 181/2
Grilled chicken breast, seasonal greens, strawberries, avocado, candied pecans, goat cheese, red onions & poppy seed vinaigrette.
The Ranchero 17 1/2
Blackened chicken, seasonal greens, sweet peppers, salsa, red onion, roasted corn, black beans, cheese, corn tortilla, avocado & ranchero yogurt.
GF Tomato soup cup 5 1/4- bowl 8 1/4
Mom's recipe, creme fraiche
Smothered Chicken 24 1/2
BBq chicken breasts baked with mushrooms, aged cheese & smoked bacon. Served with seasonal vegetable over white cheddar mashed potato.
GF Pesto Salmon 25
Wild Sockeye filet simply seared with garlic, pepper & coarse salt. Served with rice & seasonal vegetables. With pesto cream drizzle.
(Blacken your salmon $1)
New Orleans Combo Skillet 6(oz) sirloin 30 – 8(oz) Sirloin 34
Certified Angus Beef® sirloin, scallops, prawns, cajun cream, scallions, hot sauce & seared vegetables served over white cheddar mashed potato.
GF BUDDHA BOWL16
Spicy panang curry, carrot, green chick peas, cauliflower, cashews, red onion, garlic, sweet peppers, tomato, creme fraiche, fresh basil, cilantro & rice. You choose how many hunan peppers.
Add chicken, prawns or scallops $5
certified angus beef sirloin 6(oz) sirloin 23 1/2 – 8(oz) Sirloin 27 1/2
Grilled with garlic butter & signature steak spices. With seasonal vegetable, crispy onion straw & white cheddar mashed potato.
Add garlic prawns 5
GF JAMBALAYA 18
With prawns, scallops, bacon, black beans, roasted corn, creole sauce, rice & spicy yogurt.

THIN CRUST PIZZA
Sundays & Mondays $5 off (Dine-in Only)
GF Roasted Red Pepper Pizza 18 
tomato sauce, mozza, goat cheese, baby spinach, roasted peppers, caramelized onion, roasted garlic, red onion, & grape tomato. Finished with fresh basil.
GF BBQ Chicken Pizza 18 1/2
Honey bourbon BBQ, caramelized onion, bacon, cheddar, red onion, blackened chicken, fresh cilantro & parmesan.
HANDHELDS
Served with fries, tomato soup or salad. Sub tater tots or yam fries $2. Poutine your fries $3.
GF Back Yard Burger 16
Dad's patty recipe. Lettuce, tomato, pickles & signature sauce. Served on toasted gluten free bun.
Add bacon or sauteed mushrooms $2 – cheese $1
GF Canadian Burger 18
Aged cheddar, bacon, mayo, mustard, lettuce, red onion, tomato on a toasted gluten free bun.
GF chicken club 17 1/2
Blackened breast, BBQ sauce, cheddar, bacon, lettuce, red onion, tomato & mayo on a toasted gluten free bun.
GF Salmon Burger 18 1/2
6oz pan seared filet with fresh dill, garlic, pepper, course salt & lemon. Served on a toasted gluten free bun with arugula, habanero cilantro cream, green papaya slaw, tartar sauce & tomato.