Poutine 9 1/2
Skinny fries topped with cheese curds, gluten free gravy & fresh parsley.
Double cheese curds $2.5
GF Curry Mussels 16
A pound of mussels in a spicy panang ginger curry. (Also available in a white wine sauce.)
only $10 from 3-6 everyday (dine-in only)
Baked Cauliflower 9 1/2
House marinated cauliflower baked with parmesan & fresh dill.
only $7 from 3-6 everyday (dine-in only)
Jacked up skins 12 1/2
Fried russets, cheese & smoked bacon baked on a cast iron skillet. Topped with scallions & served with ranchero yogurt dip.
only $9 from 3-6 everyday (dine-in only)
Steak Bites 12
Signature steak spice, arugula, ranchero yogurt.
Double dip yam fries 9
Honey Mustard & garlic aioli dips.
Blackjack Strips 12
Blackened chicken strips with ranchero yogurt.
GRAZING GREENS & Soup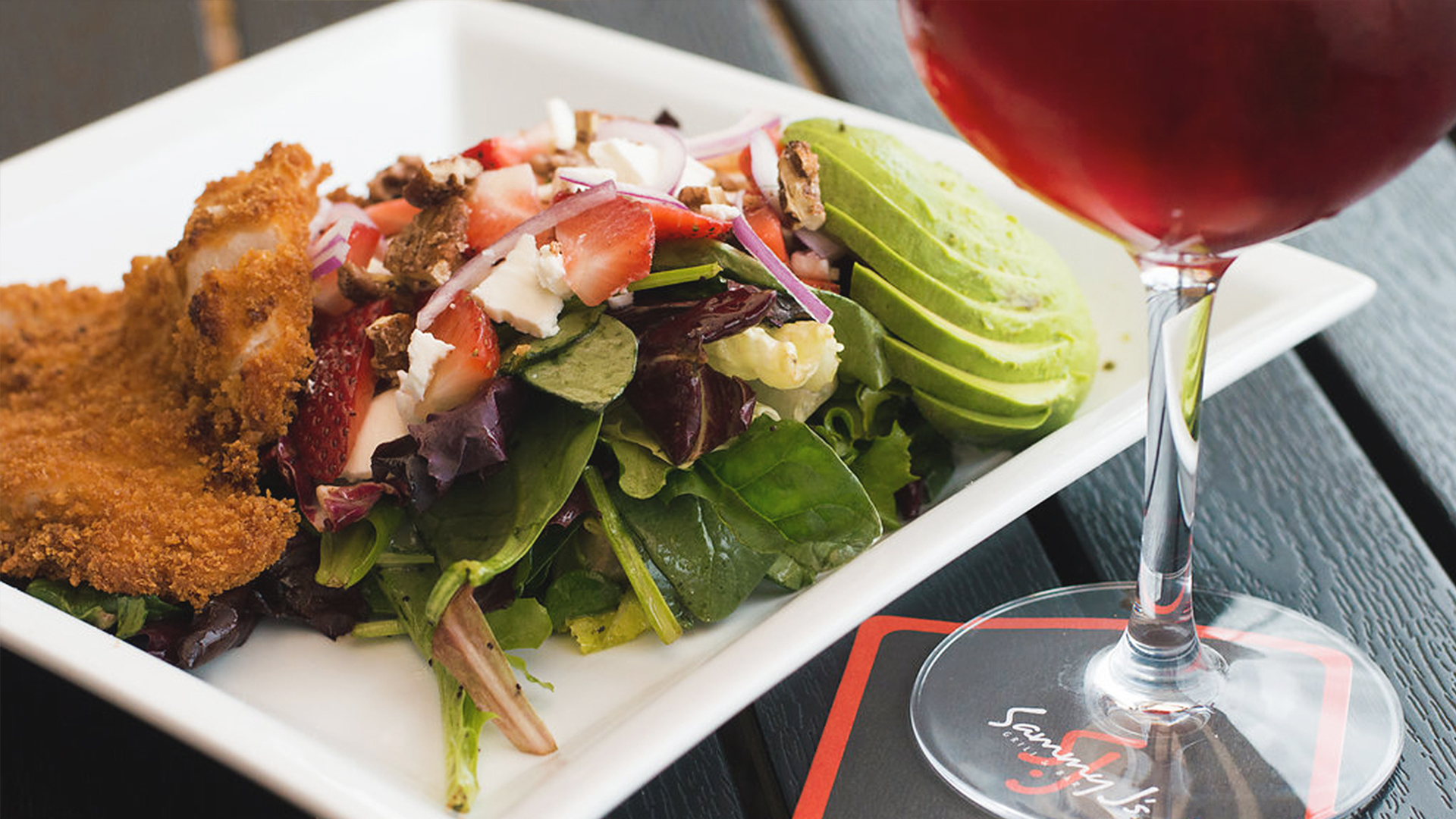 Salad Add-Ons: Chicken Breast 5 | Garlic Prawns 5 | 6oz Steak 9 1/2 | 6oz Salmon 8 1/2
Strawberry Fields 18
Grilled chicken breast, seasonal greens, strawberries, avocado, candied pecans, goat cheese, red onions & poppy seed vinaigrette.
Quinoa Salad 18
Grilled chicken, quinoa, seasonal greens, snap peas, avocado, grape tomatoes, pumpkin seeds, feta & apple cider vinaigrette.
The Ranchero 17 1/2
Blackened chicken, seasonal greens, sweet peppers, salsa, red onion, roasted corn, black beans, cheese, corn tortilla, avocado & ranchero yogurt.
GF Tomato soup cup 5 1/4- bowl 8 1/4
Mom's recipe, creme fraiche
Smothered Chicken 24
BBq chicken breasts baked with mushrooms, aged cheese & smoked bacon. Served with seasonal vegetable over white cheddar mashed potato.
Coastal Salmon 25
Wild Sockeye filet simply seared with garlic, shallots & fresh dill. Served with quinoa, snap peas & seasonal vegetables. With cucumber yogurt.
(Blacken your salmon $1)
New Orleans Combo Skillet 6(oz) sirloin 30 – 8(oz) Sirloin 34
Certified Angus Beef® sirloin, scallops, prawns, cajun cream, scallions, hot sauce & seared vegetables served over white cheddar mashed potato.
GF BUDDHA BOWL15.5
Spicy panang curry, carrot, chick peas, cauliflower, cashews, red onion, garlic, sweet peppers, tomato, creme fraiche, fresh basil, cilantro & rice. You choose how many hunan peppers.
Add chicken, prawns or scallops $5
certified angus beef sirloin 6(oz) sirloin 23 1/2 – 8(oz) Sirloin 27 1/2
Grilled with garlic butter & signature steak spices. With seasonal vegetable, crispy onion straw & white cheddar mashed potato.
Add garlic prawns 5
GF JAMBALAYA 18
With prawns, scallops, bacon, black beans, roasted corn, creole sauce, rice & spicy yogurt.

THIN CRUST PIZZA
Sundays & Mondays $5 off (Dine-in Only)
GF Roasted Red Pepper Pizza 18 
tomato sauce, mozza, goat cheese, baby spinach, roasted peppers, caramelized onion, roasted garlic, red onion, & grape tomato. Finished with fresh basil.
GF BBQ Chicken Pizza 18 1/2
Honey bourbon BBQ, caramelized onion, bacon, cheddar, red onion, blackened chicken, fresh cilantro & parmesan.
HANDHELDS
Served with fries, tomato soup or salad. Sub tater tots or yam fries $2. Poutine your fries $3.
GF Back Yard Burger 16
Dad's patty recipe. Lettuce, tomato, pickles & signature sauce. Served on toasted gluten free bun.
Add bacon or sauteed mushrooms $2 – cheese $1
GF Canadian Burger 18
Aged cheddar, bacon, mayo, mustard, lettuce, red onion, tomato on a toasted gluten free bun.
GF chicken club 17 1/2
Blackened breast, BBQ sauce, cheddar, bacon, lettuce, red onion, tomato & mayo on a toasted gluten free bun.
GF Salmon Burger 18 1/2
6oz pan seared filet with fresh dill, garlic, pepper, course salt & lemon. Served on a toasted gluten free bun with arugula, habanero cilantro slaw, tzatziki & tomato.