Szechuan Cauliflower Lettuce Wraps 16
Wok cauliflower, szechuan, hoisin, ginger, sesame seeds, carrot, sweet peppers, crispy farkay noodle, toasted cashews. Head lettuce.
Vegetarian Perogies 12
Caramelized onions, scallions, sour cream.
only $9 from 3-6 everyday (dine-in only)
Double dip yam fries 10
Ancho chipotle & garlic aioli dips.
Poutine 10
Skinny fries topped with cheese curds, gluten free gravy & fresh parsley.
Double cheese curds $3
Baked Cauliflower 10
House marinated cauliflower baked with parmesan & fresh dill.
only $7 from 3-6 everyday (dine-in only)
Crispy potato skins 12 1/2
Fried russets & cheese on a cast iron skillet. Topped with scallions & served with ranchero yogurt dip.
only $9 from 3-6 everyday (dine-in only)
Veggie Quesadillas 15
Black bean & brown rice patty, roasted corn, scallions & banana peppers baked in flour tortillas. With salsa, sour cream & tortilla chips.
GRAZING GREENS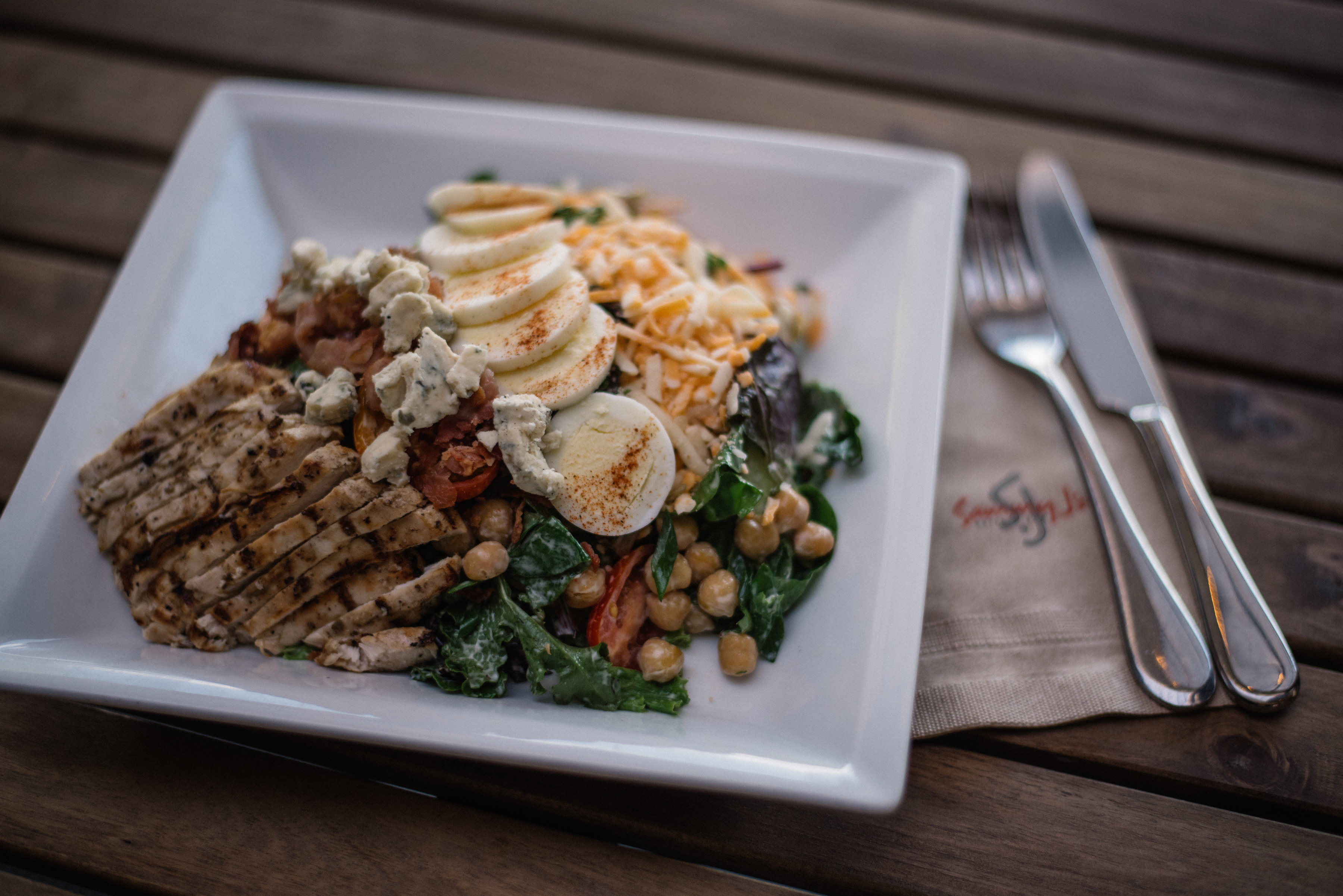 Salad Add-Ons: Quinoa 5 | Toasted Cashews 5 Candied Pecans 5
Veggie Ranchero 16 1/2
Seasonal greens, sweet peppers, salsa, red onion, roasted corn, black beans, cheese, corn tortilla, avocado & ranchero yogurt.
Vegetarian Fields 16 1/2
Seasonal greens, strawberries, avocado, candied pecans, goat cheese, red onions & poppy seed vinaigrette.
Tuscan Greens 15
Seasonal greens, grape tomato, baby spinach, cucumber, shredded carrot, snap peas, sweet peppers & apple cider vinaigrette.
FOUR CHEESE PENNE
17
Romano, gruyer, white cheddar & havarti cheese sauce with scallions. With garlic toast.
Pesto Penne 17
House made pesto cream, roasted red peppers & shaved parmesan. Garlic toast.
Vegtarian fajitas 22
Sauteed peppers, mushrooms & onions with salsa, sour cream, guacamole, lettuce, cheese & flour tortillas.
Fajita Tuesdays $5 off (dine-in only)
Thai Buddha Bowl 16
Spicy panang curry, carrot, chick peas, cauliflower, cashews, red onion, garlic, sweet peppers, tomato, creme fraiche, fresh basil, & rice with grilled naan. You choose how many hunan peppers.
Samurai VEGGIE Bowl 16 1/2
Rice, sweet peppers, snap peas, bok choy, cauliflower, broccoli, braised cabbage, onion, carrot, sesame seeds, pea shoots & spicy yogurt.
Cauliflower Jambalaya 16 1/2
With rice, black beans, roasted corn, creole sauce, spicy yogurt. Garlic toast.
Roasted Red Pepper Pizza 16
Thin crust, tomato sauce, mozzarella, goat cheese, baby spinach, roasted peppers, caramelized onion, roasted garlic, red onion & grape tomato. With fresh basil & pesto cream drizzle.
vegetarian fried rice 16 1/2
Snap peas, carrot, cauliflower, celery, rice & egg sauteed with soy sauce. Garnished with green onions.

HANDHELDS
Served with fries or salad. Sub tater tots or yam fries $2. Poutine your fries $3.
The Treehugger 15.5
Black bean & brown rice patty, grean leaf lettuce, tomato, roasted red peppers, tartar sauce & havarti cheese on a toasted brioche bun.
Add sauted mushrooms $2 – cheese $1
VEGGIE TACOS 16
Black bean & rice patty, melted cheddar, avocado, roasted corn, salsa, hot sauce, habanero clantro cream, green papaya slaw & corn tortillas.
THE MILLENIAL SANDWICH 16
Grilled garlic parmesan naan, cucumber, spinach, tomato, red onion, green chick peas, roasted peppers, goat cheese, avocado & garlic aioli spread.