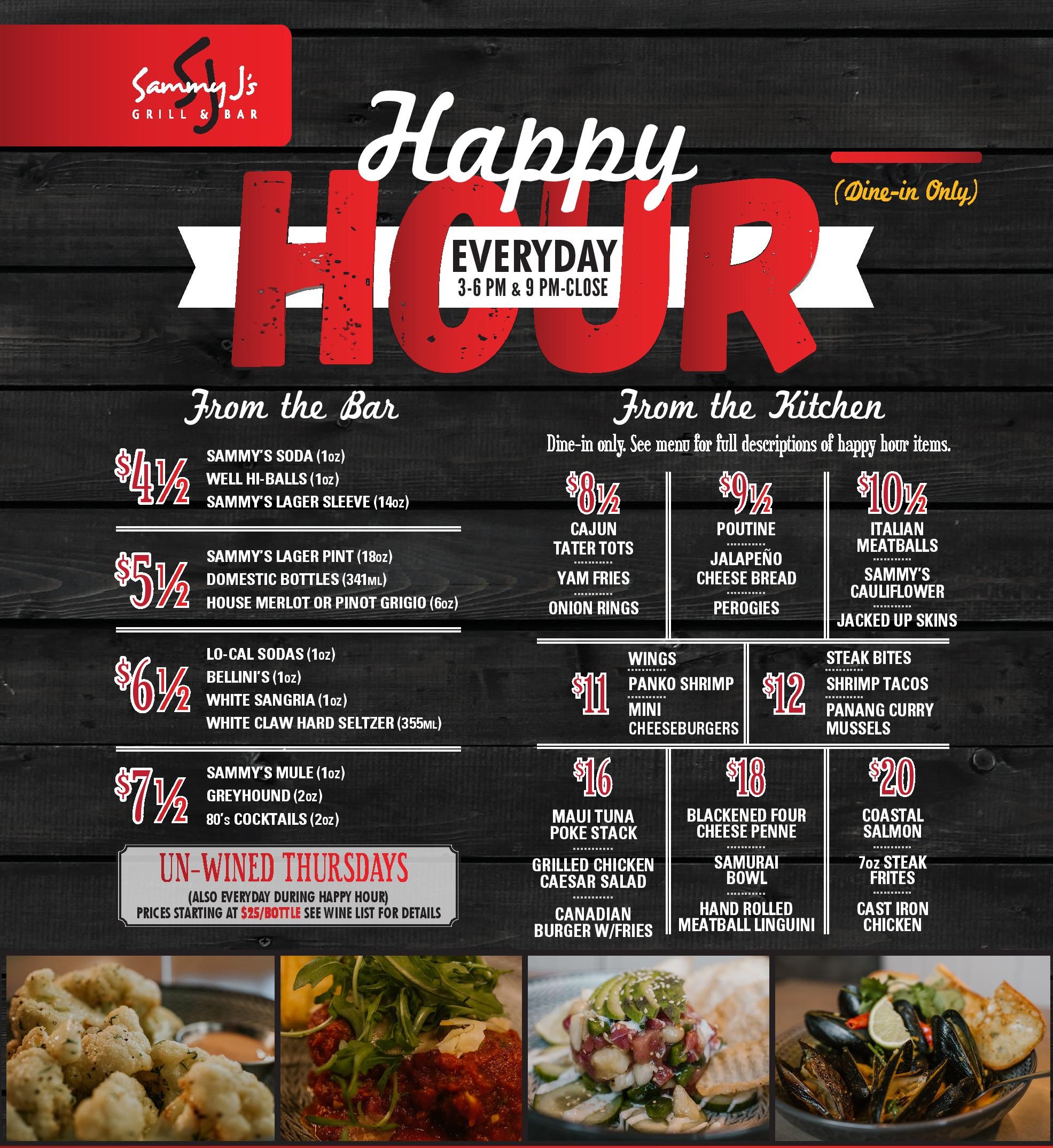 ICE COLD BEER
SAMMY'S LAGER
$6½(14oz) – $7¾ (18oz)
Molson Canadian & Coors Light
$7 (14oz) ~ $8¼ (18oz)
Local craft & Seasonal taps Vary by location
Ask your server for details
Bottles
Domestic (341ml) $6 ½
Budweiser ~ Bud Light ~ Miller Genuine Draft ~ Kokanee
Import (341ml) $7 ½
Corona ~ Heineken ~ Michelob Ultra
Vizzy seltzer (355ml) $7½ Pomegranate Blueberry ~ Pineapple Mango
Ciders
Strongbow tall can (500ml) $9½| Rock Creek apple cider GF (355 ml) $7 ½
80's Double Cocktails
Vodka Paralyzer 9
Vodka, kaluha, pepsi, milk & maraschino cherries.
Bartender's Rootbeer 9
Kahlua, galliano, pepsi, soda water & lime wedge.
Harvey Wallbanger 9
Vodka, galliano, orange juice, orange slice & maraschino cherry.
Tequila Sunrise 9
Tequila, orange juice, grenadine, orange slice & maraschino cherry.
Fuzzy Navel 9
Vodka, peach schnapps & orange juice.
Long Island Iced Tea 9
Vodka, triple sec, rum, gin, pepsi & lime juice.
Greyhound 9
Vodka, grapefruit juice & grapefruit slice garnish.
MUDDLED DRINKS
THE PERFECT MOJITO 9
Rum, mint, simple syrup, lime, soda.
STRAWBERRY CUCUMBER MOJITO 9
Rum, mint, simple syrup, strawberry, cucumber, soda.
LO-CAL SODAS
Peach & Orange Blossom 7¼
Ketal One botanical vodka served with soda over ice.
Cucumber & Mint 7¼
Ketal One botanical vodka served with soda over ice.
Grapefruit & Rose 7¼
Ketal One botanical vodka served with soda over ice.

Slushy Favorites
Sammy's Sodas 6 ¾
Flavoured vodka, liqueur & soda topped with lime slush. Choice of raspberry, blueberry or vanilla.
BELLINI 7
A Sammy J's original …a frozen blend of rum, champagne & peach schnapps topped with red sangria & a fuzzy peach candy.
White Sangria 7¼
Chardonnay, peach schnapps, apricot brandy, orange juice, seasonal fruit & a splash of ginger ale.
Add bellini slush $1
Strawberry Lemonade 7
Vodka, strawberry zinfandel, lemonade, slush & strawberry puree.
RON BURGUNDY 7
Red sangria & 7-up topped with peach bellini slush.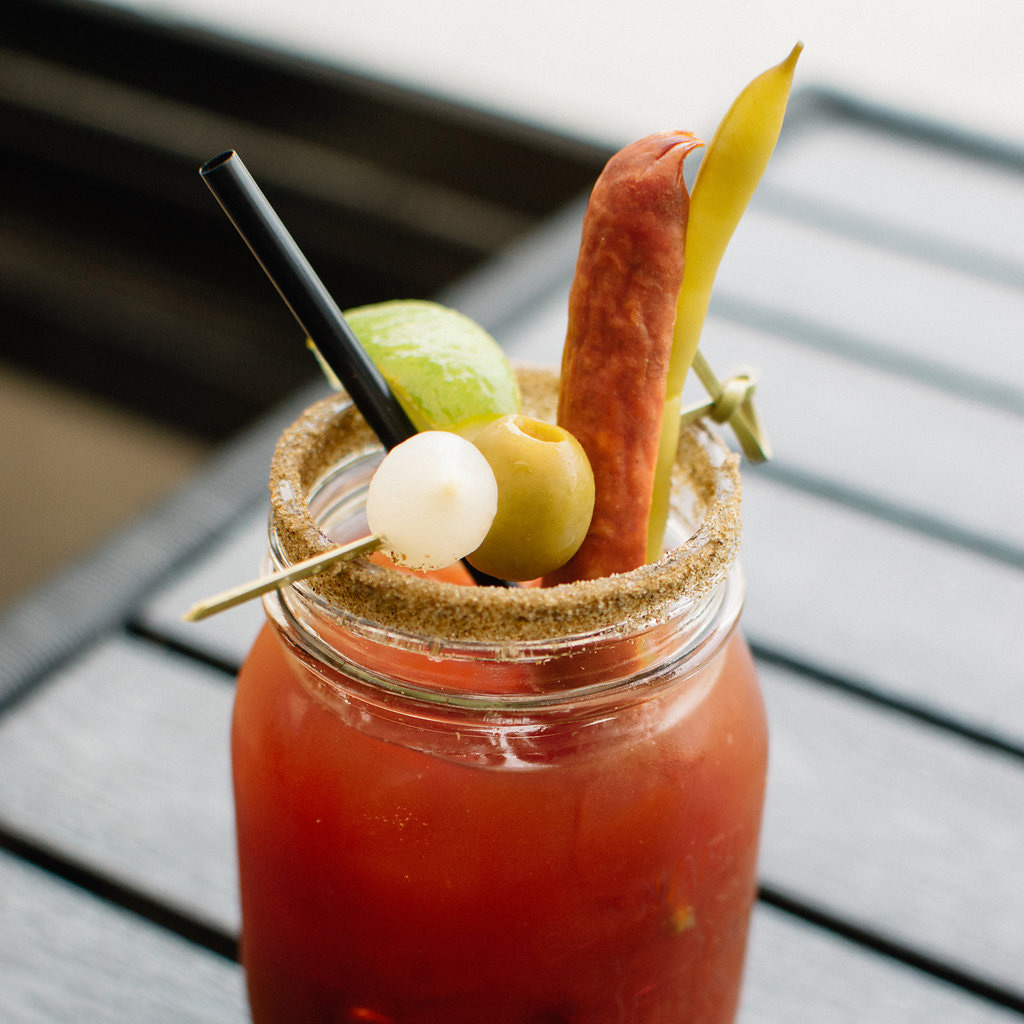 CAESARS

All Caesars served in a mason jar & garnished with pickled onion, blazes bean, olive & pepperoni.
SIGNATURE CAESAR 8½
House infused spicy vodka, Mott's Clamato™, tabasco & worcestershire.
HORSERADISH CAESAR 8½
Same as above but with a heaping spoonful of horseradish.
THE Queensborough Caesar 9
Award winning locally distilled Queensborough gin, Mott's Clamato™, tabasco, fresh basil & worcestershire.
"In a Pickle" Caesar 9¾
Langley's own Roots & Wings garlic dill pickle vodka Mott's Clamato™, tabasco, worcestershire & a dill pickle spear.
THE GRILLED CHEES-AR 13
Our signature caesar with a grilled chees garnish.
ALL CAESARS $2 OFF ON SUNDAYS
CLASSICS
Sammy's MULE (1oz) 8 ¾
Vodka,ginger beer & lime served in a copper mug.
THE GREY GOOSE MARTINI (2oz) 12 ¾
Grey Goose vodka with vermouth & olives.
THE DISTILLER (1oz) 8 ½
Handcrafted cucumber mint tonic, cucumber, mint & vodka with a
lime wedge garnish.
OLD FASHIONED (2oz) 12
Bulleit bourbon, bitters, simple syrup, orange slice & a bada bing cherry.
DARK & STORMY 10 ½
Dark rum, lime juice & P49 ginger beer.
Lavender lemonade (1 oz) 8 ¾
Premium Empress gin, lemonade, soda & lemon wedge garnish.
"Alcohol is not the answer,
but it helps you forget the question."
BOTTOMLESS PEPSI PRODUCTS 3 ¾
Pepsi, diet pepsi, 7-up, iced tea, lemonade, ginger ale & dr. pepper.
VINTAGE SODA Bottle 4
Dad's old fashioned root beer
SPARKLING WATER 3 ¾
Pellegrino 500ml
Cucumber Mint Tonic 4 ½
Locally handcrafted by Phillips brewing (237ml).
Served with fresh mint and cucumber.
RED BULL ENERGY DRINK 5
Regular or sugar free (250ml).
JUICE 3 ¾
Orange juice, cranberry, grapefruit, apple, pineapple, tomato.
NON ALCOHOLIC BEER 4
O'Doul's amber, Fentiman's ginger beer, Budweiser prohibition.
SEATTLE'S BEST COFFEE 3 ¾
Organic free-trade coffee
Teavanna TEAS 3 ¾
Radiant green tea, english breakfast, earl grey & harmonic mint